City-Tech.Tokyo 2023 held at the Tokyo International Forum on February 27-28th, was a two-day event that brought together experts, industry leaders, and enthusiasts from +60 countries and +290 cities. The event featured a variety of activities and presentations, +30 talk sessions opening with a speech from Yuriko Koike, the governor of Tokyo.
---
Goals of Tokyo:
At the kick off of the event, Yuriko Koike emphasized the importance of sustainability and inclusivity for urban development, and highlighted how technology can help address the challenges facing cities today. She also mentioned detailed targets for Tokyo city by 2028, within 5 years.
At the kick off of the event, Yuriko Koike emphasized the importance of sustainability and inclusivity for urban development, and highlighted how technology can help address the challenges facing cities today. She also mentioned detailed targets for Tokyo city by 2028, within 5 years.
She set out a clear vision for the city's future at the recent City-Tech.Tokyo event. Koike emphasized the importance of sustainability and inclusivity in urban development, highlighting the key role technology can play in addressing the challenges facing cities today. She went on to outline Tokyo's ambitious goals for the next five years, aimed at positioning the city as a global leader in innovation and entrepreneurship.
Tokyo Targets:
10x increase Global Unicorn companies from Tokyo.
10x increase Startups based in Tokyo.
10x increase Tokyo Metropolitan Government Government's(TMG) startup collaborative projects.
As to achieve this goal, Tokyo city has prepared:
23.6B JPY (200M USD) for FY2023 to be invested in startup related projects (150% increase vs FY2022).
1B USD investment within 5 years.
10B JPY (17M USD) fund to support University startups.
Opening for Tokyo innovation hub in FY2024 (pre-opening in 2023)
At present, Japan has 13 unicorns (Japanese link), with 10 of those located in Tokyo. To achieve its goal of a 10x increase in the number of unicorns, Tokyo must reach a total of 100 unicorns by 2028. This will require significant effort and investment, but the city is determined to position itself as a global hub for innovation and entrepreneurship.
Tokyo's goals for the future are ambitious, but they reflect a commitment to creating a more inclusive and sustainable future for all. By investing in startups and innovation, the city aims to create new opportunities for entrepreneurs and to drive economic growth. Moreover, Tokyo's commitment to sustainability and inclusivity underscores the importance of building a better future for everyone.
---
City-Tech Challenge
One of the highlights of the event was the startup pitch competition, which showcased some of the most innovative startups in the urban technology space. 388 companies from 35 countries participated, and out of 20 semi-finalists, 7 final contestants were selected to present at the 2nd day of the event.
The pitches covered a range of topics, from SpeceTech, FoodTech and GreenTech. The winner for the grand prize of the challenge was Mr.Kiyoshi Seko from Kyoto Fusioneering Ltd. He presented that nuclear fusion is the most clean and carbon neutral source of energy without core meltdown risks and high-radioactive wastes. The company was founded in 2019 from Kyoto University, and the company has $13M USD contracted sales with the UK Atomic Energy Agency and +$500M pipeline sales.
Overall, the City-Tech Challenge at City-Tech.Tokyo was an exciting event that celebrates innovation, technology to create positive change, and power of presentation. By bringing together diverse perspectives and encouraging creativity, the City-Tech Challenge helped the whole "City-Tech.Tokyo" event to present itself as to foster a culture of innovation and inspire new solutions to some of the most pressing challenges facing cities around the world.
---
Japan's Startup Policy – Specific Measures for Ecosystem Building
At one of the panels, Shigeyuki Goto, Minister in charge of startups addressed the start-up related goals for the Japanese government. The Minister outlined Japan's current position as being behind in terms of investment and number of unicorn companies compared to other top countries for startups. The Minister believes that startups are key to addressing social issues and is positioning startup policies as one of the pillars of the new form of capitalism.
To combat Japan's lagging position in the global startup market, the government has created a new ministerial post to oversee startup policy, which is in line with the goals to Tokyo city explained earlier in this article, and in the Startup Development Five-year Plan shared by the Cabinet Secretariat Office (Article by Kyodo News) in 2022.
Japan Targets:
10x Global Unicorn companies: 100 unicorns
10x increase Startups: 100,000 startups.
And in order to achieve these targets, Japan decided to allocate 7.7 billion dollars for promoting startups in the economic stimulus package. The Minister outlined three major initiatives to promote startup development under the 5-year plan: building human resources and networks for creating startups, enhancing funding for startups and diversifying exit strategies, and promoting open innovation. Specific measures include expanding support for young and talented future entrepreneurs, establishing a global startup campus including top overseas universities, enhancing funding for startups, and improving the startup environment to attract overseas startups and investors.
The Minister hopes that with governmental support, existing infrastructures, and motivated and innovative people, Japan can achieve its goal of becoming a world-leading startup hub. Furthermore, the Minister believes that startups have the potential to encourage the growth of the global economy and contribute to creating positive changes in society.
---
The Venue
Opening speech by Governor of Tokyo Yuriko Koike: Shared the perspective of TMG.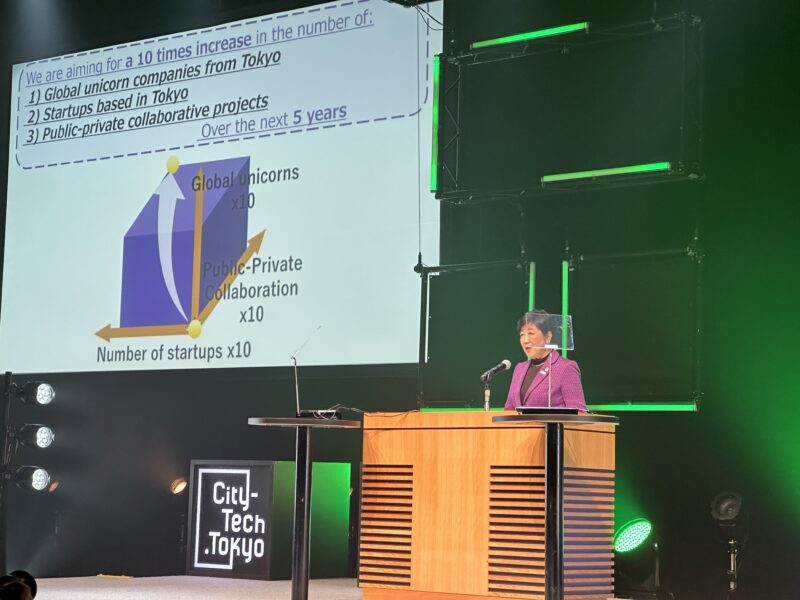 E Stage located in the middle of the venue.
Some main large sessions were held here.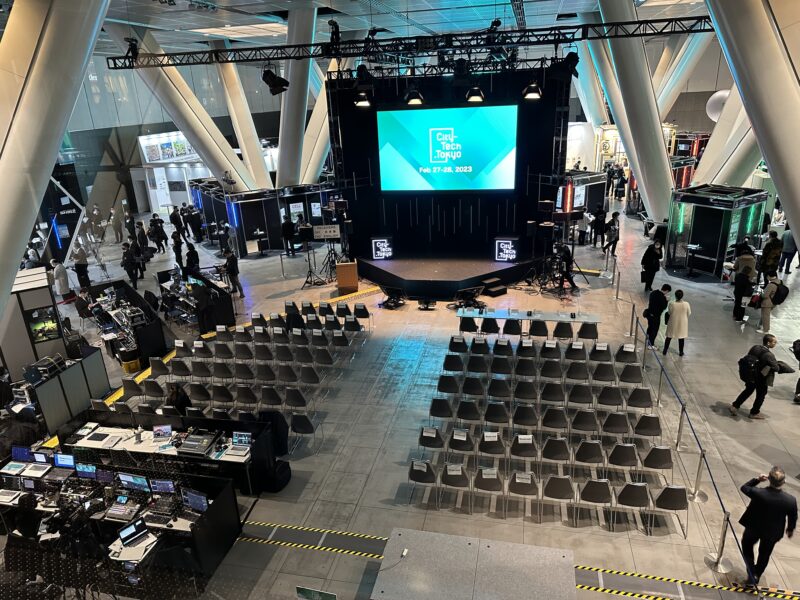 The booths seen from above. Participants were actively interacting with other members sharing inputs.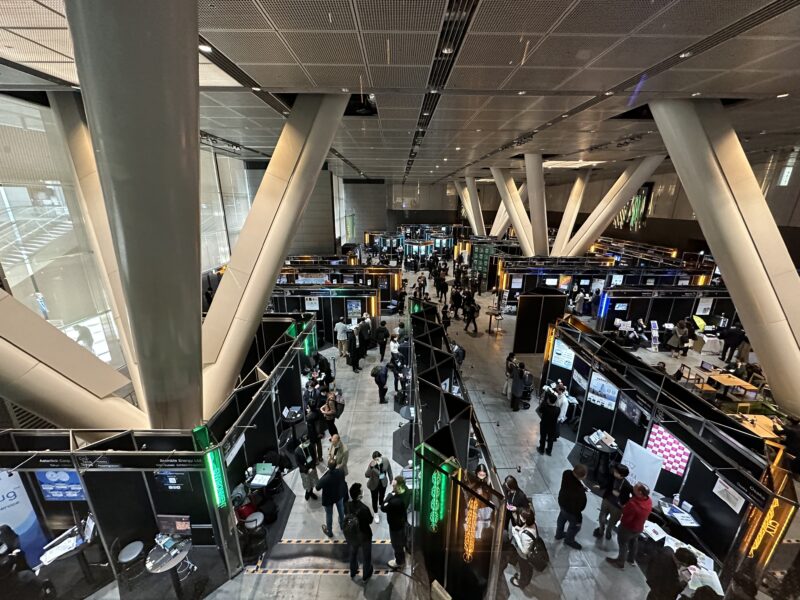 Tokyo International Forum is designed by architect Rafael Viñoly and located in the central Marunouchi area. Throughout the City-Tech.Tokyo event, you could see the blue sky through the glass facade creating an open atmosphere.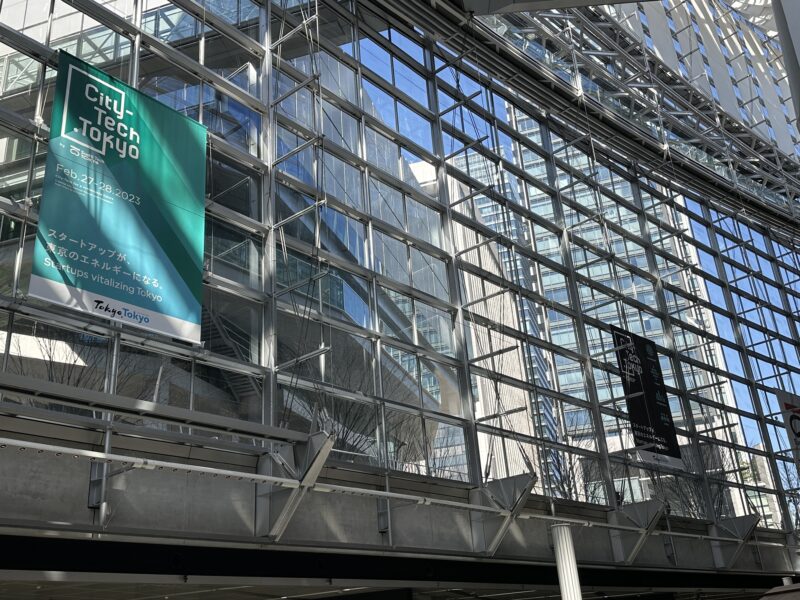 ---
Overall, City-Tech.Tokyo 2023 proved to be a great success, with a diverse startup, VC/CVC, and everyone in the ecosystem gathering to explore the latest developments and advancements. The event showcased the potential of Tokyo city to become the hub for innovation and future opportunities.
---