RouteX(ルーテックス)は、
「情報の非対称性が無い世界へ」をMissionに
世界中のスタートアップ・エコシステムに関する
リサーチ/コンサルティング事業を行うシンクタンクです。
RouteX(ルーテックス)は、
「情報の非対称性が無い世界へ」をMissionに
世界中のスタートアップ・エコシステムに関する
リサーチ/コンサルティング事業を行うシンクタンクです。
RouteX(ルーテックス)は、
「情報の非対称性が無い世界へ」をMissionに
世界中のスタートアップ・エコシステムに関する
リサーチ/コンサルティング事業を行うシンクタンクです。
RouteX(ルーテックス)は、
「情報の非対称性が無い世界へ」をMissionに
世界中のスタートアップ・エコシステムに関する
リサーチ/コンサルティング事業を行うシンクタンクです。
RouteX(ルーテックス)は、
「情報の非対称性が無い世界へ」をMissionに
世界中のスタートアップ・エコシステムに関する
リサーチ/コンサルティング事業を行うシンクタンクです。
RouteX(ルーテックス)は、
「情報の非対称性が無い世界へ」をMissionに
世界中のスタートアップ・エコシステムに関する
リサーチ/コンサルティング事業を行うシンクタンクです。
RouteX(ルーテックス)は、
「情報の非対称性が無い世界へ」をMissionに
世界中のスタートアップ・エコシステムに関する
リサーチ/コンサルティング事業を行うシンクタンクです。
RouteX(ルーテックス)は、
「情報の非対称性が無い世界へ」をMissionに
世界中のスタートアップ・エコシステムに関する
リサーチ/コンサルティング事業を行うシンクタンクです。
RouteX(ルーテックス)は、
「情報の非対称性が無い世界へ」をMissionに
世界中のスタートアップ・エコシステムに関する
リサーチ/コンサルティング事業を行うシンクタンクです。
RouteX(ルーテックス)は、
「情報の非対称性が無い世界へ」をMissionに
世界中のスタートアップ・エコシステムに関する
リサーチ/コンサルティング事業を行うシンクタンクです。
Mission
Eliminate information asymmetries and unleash the potential of all players in the startup ecosystem
Vision
One innovation after another, to the moment when everyone changes the world

We create startup ecosystem with players all over the world and make new innovations happen.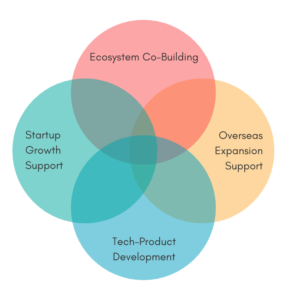 Business
We have created a unique Cross-Border Startup Ecosystem to help all players in the ecosystem to expand their business and create new businesses.
Based on research of the global startup ecosystem, we support all ecosystem activities, from large companies to startups, educational institutions, local authorities and investors.
Facebook
Developer Circles

RouteX is the selected as the Japan representative for Facebook Developer Circles, Facebook's official engineering community in over 100 cities around the world. We are involved in management of various events in order to bring about the next innovation from the engineering community.
We also received an invitation from Facebook to attend the 2019 F8 and to speak at Facebook's Silicon Valley headquarters. We are actively interacting with top engineers and startups from around the world and continue to strengthen the foundation of our network to help you take on the world through RouteX Inc.

Since March 2020, RouteX Inc. has been working as an Ecosystem Partner with Hello Tomorrow Japan, the Japanese hub of world's largest Deep Tech community, which started in France and is expanding its global network to cities around the world. 
We will be working to eliminate information asymmetries in the Global Summit and other Deep Tech-related initiatives around the world.
We will also support the mission of Hello Tomorrow Japan to build a local ecosystem and will implement various initiatives. We will continue to work vigorously to create a world-leading Deep Tech ecosystem from Japan.

In 2019, our CEO Omori was the only Japanese to participate in the F8 Hackathon, a hackathon held with F8, Facebook's most important conference in Silicon Valley.
The F8 Hackathon is a pre-selected event where participants are selected from a global pool of applicants. Facebook will pay for all travel, accommodation, transport, food and other expenses for participants, including a visit from Facebook founder Mark Zuckerberg to the F8 Hackathon, making it the world's premier hackathon.
Collaboration with
Sri Lanka Embassy

Sri Lanka, with a population of around 20 million, is an island nation in the Indian Ocean in South Asia, famous for its tea production since the days when it was known as Ceylon. 
In recent years, Sri Lanka has been accelerating the development of its startup ecosystem, particularly in Colombo, and has been included in the 2020 edition of Startup Genome, which evaluates and reports on startup ecosystems of countries and cities around the world.
RouteX has been working with the Sri Lankan Embassy in Japan to foster further relations between Japan and Sri Lanka and held an online event on 27th August 2020.

Our CEO Omori held AngelHack Tokyo 2019 (the Japanese event of world's largest hackathon community from Silicon Valley) as a representative of Japan.
AngelHack Tokyo 2019 was sponsored by IBM, AWS, Mercalli and EMURGO, and we had 150 participants and organizers from 14 countries. We will continue to use the AngelHack community to strengthen our collaboration with international startups.
Events
We offer our knowledge and experience through events.
RouteX organises more than 50 events a year on the startup ecosystem, which have been attended by many entrepreneurs and engineers from Japan and abroad. We are also happy to co-organise events with individual companies and organisations, so please do not hesitate to contact us.
Online Salon
We use closed communities to share more detailed information and support collaboration.
At RouteX, we use the closed community of our online salon to share more detailed information on overseas startup trends exclusively for community members and to support collaboration with overseas startups. We will support your business growth by utilizing the knowledge and network we have cultivated through researching overseas startup ecosystems in over 50 countries around the world.